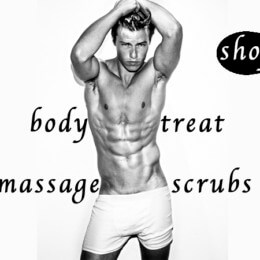 How men benefit by having a professional body scrub
The benefits of body scrubs go beyond exfoliation to include relaxation, detoxification and more. Here's more on why the pros recommend this treatment, plus the best products men can try at home
The benefits of body scrub
Need a good scrub down? While we know that facial exfoliation is part of our weekly grooming routine, a body scrub provides a variety of benefits. From helping our bodies to have more hydration as lotions are absorbed better, to increased relaxation, incorporating a grainy friend into our soap and shower routine.
Whether at home, or being taken care of by a professional, a proper scrub application needs to have firm, pressure. It's recommended to always scrub upward, and concentrate on tough spot areas like elbows, knees, feet, and the back of the neck. At The Men's Grooming Salon we use a larger coarser scrub for these areas and much smaller beads to exfoliate the more sensitive areas. Using a dry brush buffer, also helps to stimulate circulation, whether at-home or in a professional setting.
Benefit #1 – Skin Blaze, better hydration.
One of the biggest benefits to body scrubs, particularly the salt scrub, is the ruddiness that your skin is left with. There are different grades of salt, and sea salt is the best option for a salt scrub. The results for your body will depend on the type and grade of the exfoliator used. After receiving a body scrub, your skin will be able to better absorb lotions. Moisturizing after a scrub will leave your skin feeling soft and supple. The change will be instantly noticeable and will continue to improve as you moisturize daily.
Benefit #2 – Exfoliating, Clears Blemishes and Ingrown Hairs.
Our skin is our body's first line of defence from microorganisms and foreign bodies. It is therefore fitting to keep them healthy and rejuvenated from time to time. It might seem like an obvious benefit to mention, but body scrubs are a great way to exfoliate dead skin cells. This paves the way for fresh new cells to regenerate and leaves you looking and feeling amazing. Planning a body scrub for exfoliating benefits is best in the fall and spring, right before you start to tan and when your tan starts to fade. Of course, exfoliating is great any time. If you have sensitive skin, it's best to stick with sugar or herbal body scrubs. Otherwise, salt scrubs are great for exfoliation. At The Men's Grooming Salon you can choose from our weekly diverse selections or you can leave it to the expert to treat you with the best combinations.
Exfoliating improve the health of your skin. When dead skin builds up, it can clog pores and cause blemishes and ingrown hairs to appear on the surface of your skin. Exfoliating the skin and removing that dead skin often lessens the frequency of body acne, pimples, ingrown hairs etc.
Benefit #3 – Increasing Blood Flow, Detoxifying.
When you get a body scrub or give one to yourself, you are encouraging the natural flow of circulation and bodily fluids within. For the best results a professional should recommend and apply the body scrub that is appropriate for you. When you have a professional massage therapist apply the body scrub, a massage can be incorporated. This will increase the correct circulation and flow benefits.
Benefit #4 – Improve Cellulite and Aging
There are some claims that certain types of body scrubs can actually improve the look of aging and dimpled skin from cellulite. There is no miracle cure, but it certainly won't hurt to try a body scrub that is enhanced with coffee. The coffee grounds are the best option for use on cellulite prone areas of the body. These types of body scrubs are great if you love the smell of coffee, too.
Benefit #5 – Relaxation, Stress Reduction.
Treating yourself to a body scrub, especially when combined with a massage, is just plain relaxing. Having a body scrub done by a professional allows you to incur the benefit without the mess or stress. Plus, when you have a choice of essential oils to add to your body scrub, the effects are even more potent. Lavender is a great choice because of its known relaxing qualities. There may be other scents that you find relaxing, so be sure to ask what essential oils can be incorporated. The body scrub experience, along with a massage and facial, is a great way to relax and release stress. The calming spa experience helps your mind and body recover from a long hot summer day or a cold winter.