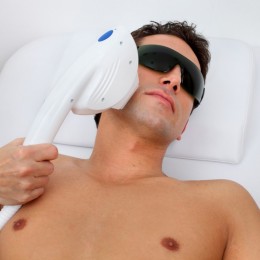 Free yourself from unwanted body hair.
Stop shaving, waxing, or plucking when you choose laser hair removal.
Unwanted facial and body hair can be problematic for men of all ages. Both laser hair removal and Intense Pulsed Light (IPL) hair removal give you a fast and easy solution for permanent hair reduction so you can look and feel your best. Laser hair removal reduces the need for shaving, which can leave your skin irritated and often results in unsightly stubble. It's an advanced solution that frees you from razors, waxing and creams to get rid of the hair on your face and body-and it gives you the convenience of ready-to-bare skin
every day.
The secret lies in the clinically-proven technology that targets and destroys cells responsible for hair growth without harming surrounding skin. It's a simple approach to permanent hair reduction that's fast, easy and FDA cleared. Best of all, treatment sessions can take just minutes. Light-based hair removal can work for most everyone, for all skin colors and most hair types. For men, laser hair removal is great for permanently reducing chest and back hair for the cleaner, younger look you desire.
Answers to common questions about laser hair removal
What areas can be treated?
Laser hair removal can remove hair from the face (except around the eyes), back, chest, arms, underarms, Brazilian, bikini line and legs.
Am I a good candidate for this procedure?
Laser hair removal is available for all skin types, including very light and very dark skin, and most hair colors. Your provider will determine whether you are a good candidate for the procedure based on a variety of factors.
How does it work?
Light is used to target and destroy hair follicles responsible for hair growth without harming surrounding tissue.
How long does it take?
Laser hair removal treatments take just minutes for small areas and about a half hour for larger areas.
How many treatments will I need?
Several laser hair removal treatments are recommended for the best results. Several treatments may be needed to remove all your unwanted hair. You do not need to let hair grow out between treatment sessions.
How much does laser hair removal cost?
Laser hair removal is more affordable than you might think. Check our price list here.
What will the treatment feel like?
Most people feel only a slight, momentary "snap" at the treatment site during the procedure.
How quickly will I recover?
You can resume regular daily activities immediately following treatment.
Are there any side effects?
Some typical side effects of laser hair removal include a mild sunburn-like sensation (redness), accompanied by some minor swelling, immediately following the treatment. These effects may last a few days.
Other less common possible side effects include pain, bruising, peeling, rash, prolonged itching, ingrown hairs, crusting, and infection; burning, blistering, and scarring; scabbing, broken capillaries, and acne or herpetic breakouts.
Pigment (skin color) changes may include lightening of the skin or darkening of the skin, lasting one to six (1-6) months or longer or possibly permanently.
Removal or lightening freckles or other pigmented lesions may occur. Freckles and other pigmented lesions may temporarily or permanently disappear in treated areas. There is a risk of lightening or darkening of vascular lesions in the treated area.
There is a risk that the hair regrowth may be changed, such as little or no regrowth or more regrowth than before.
People of Middle Eastern and Mediterranean descent, as well as those who have an ill-defined hair line with no obvious transition of the hairline to the face, may have a higher risk of unexpected hair growth.
Do some areas work better than others?
Yes, due to hair thickness some areas take fewer treatments than others to achieve a permanent hair reduction. Usually a permanent hair reduction is achieved in three to eight treatments.
How does men's skin and hair differ from women's?
Men's skin is thicker, they have more muscle mass and the hair tends to be coarser, therefore it takes more treatments to permanently reduce the hair in comparison to women.
Do you have any advice for men considering laser hair treatment?
To be very consistent with regular treatment intervals and complete the recommended number of treatments. Laser hair removal is the most effective method of permanently removing unwanted hair and is far cheaper and effective in the long run.
What can men do to prepare?
Two weeks before treatment
Do not wax, pluck or tweeze the area. This will ensure the hair is in the follicle and the laser can treat it
Avoid sun exposure, fake tans and solariums, since these increase the risk of pigmentation
Do not have cosmetic injections or skin treatments – the laser can't be used on broken skin
12 hours before treatment
Shave the area to ensure the laser is absorbed by the hair follicle below the skin's surface
What should men consider before getting laser treatment for facial hair?
Be sure about the outcome you want. Know whether you are looking for face sculpting or full facial hair removal. Remember this is a permanent hair reduction – it won't grow back – so be certain!
At The Men's Grooming Salon will provide you an individualized information on potential side effects with you.