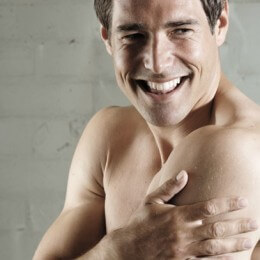 Hand Job
These days, lots of younger men are including hand care in their daily grooming rituals. And growing numbers of men-only manicurists and aestheticians mean you are bound to find one who makes you feel at ease. There is nothing glamorous about hand care. In fact, most men hardly give their hands a second thought. But when you stop for a moment to consider them, you realise that your hands, like your hair, are always on public display. Furthermore, people are more likely to come in contact with your hands than with any other part of your body.
Given that most men don't exactly have the best looking hands in the world the introduction of Christian Acuña Hand Care Treatment for Men had got to be good news – and it's about time. Generally speaking, the male grooming market has been slow to catch on to the notion that more and more men are interested in body products.
Professional Care.
A professional manicure is one of life's affordable luxuries. If, however, you simply get your nails trimmed and your cuticles treated, and have some moisturising cream rubbed into your skin, your hands will look great and feel even better. And others will regard you as a serious professional who cares about his appearance.
At-home Care
At-home care keeps your hands looking their best between professional treatments. There are several products on the market that will work miracles on even the most callused palms.
One of our favourites is Christian Acuña Hand Care Treatment. This product is very popular with marine workers and mechanics, and there is nothing fluffy about it. This hand treatment cream annihilates the toughest engine grease but leaves your hands feeling their absolute best.
This gentle, greaseless formulation contains all organic ingredients such as She Butter, Coconut Oil, and Green Tea Extracts; as well as Vitamins A, B5, C, D and E, citrus fruit extracts, and other organic ingredients to moisturize your skin and protect it against all kinds of environmental pollutants (bee stings, bug bites, toxic chemicals, paint, grease, poison oak and ivy). Simply rub a pea-sized drop on your skin first thing in the morning; it will keep your hands in shape all day.
Go ahead. Get a hand job. It is relaxing, enjoyable, and your spouse or lover is likely to approve.