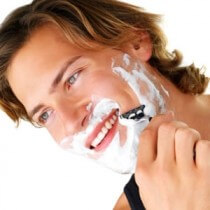 Men's Grooming Tips for Perfect Men's Shaving
Correct shaving technique is vital to maintaining a good skin complexion. The therapists at the Men's Grooming Salon recommend the following shaving procedure.
Step 1
Warm water softens the beard; therefore, it is best to shave immediately following a warm shower or to use a warm, wet towel or washcloth on the face before shaving. Always use warm water as hot water will dry out your skin.
Step 2
Apply a facial cleanser to warm, damp skin. The cleanser removes dirt, oil, and dead skin as well as any other debris that can get between your skin and the razor. Rinse well with warm water.
Step 3
Apply Christian Acuña's shaving gel in a smooth, thin layer over the entire beard. A shaving brush can help evenly distribute the product as well as buff the skin and help the hairs to stand straight up, ready for the blade. Be careful not to use too much because it can clog the razor blade; an amount equal to about the size of a quarter is usually good enough for your entire face and neck. For an extra close shave, apply a pre-shave oil before the shave gel—this provides an extra layer of lubricant between the blade and your skin. Let the product sit for up to one minute to further soften the beard and condition the skin.
Step 4
Using a sharp, clean razor. I recommend changing blades every three to four uses, more often for those of you with heavier beards. Begin with the sideburns, cheek and neck. Use your free hand to hold skin taut and flat and finish with the lip and chin areas- shaving these tough areas last allows the product to condition the skin and beard longer.
Step 5
While shaving, frequently rinse the razor in warm water, to keep blades free and clear of shaving product and hair.
Step 6
Rinse your face with cool water, which helps to close pores, and pat skin dry. Do not rub as rubbing can irritate freshly shaven skin.
Step 7
Finish with Christian Acuña soothing aftershave gel , which helps keep skin soft and hydrated and keeps you smelling fresh. Now go out and enjoy your day knowing that you look great and have treated your face well.