All that you need to know about BOTOX® Cosmetic for Men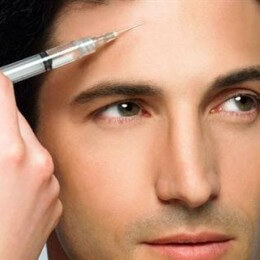 All that you need to know about BOTOX® Cosmetic for Men
Botox has become the most talked-about beauty treatment in Tinseltown and beyond, causing as many frown lines as it famously smooths.
Expression lines, particularly around the eyes and forehead, can make you feel self conscious and less confident. Fortunately, At The Men's Grooming Salon in Sydney we understand that looking good is feeling good, which is why we employ highly skilled, trained industry professionals to administer the latest and greatest in anti-aging miracles, Anti-Wrinkle Injections using BOTOX® Cosmetic, Botulinum toxin A. With real, noticeable results, no surgery and no recovery time, there are many reasons why millions of men worldwide have proceeded with anti-wrinkle injections of BOTOX® Cosmetic, Botulinum toxin A.
The most common areas of concern for men are the wrinkles between their eyes, smile lines (crows feet) and on their forehead (transverse worry lines). These wrinkles are the result of repetitive use of the upper facial muscles (frowning, smiling, raising eyebrows, quizzical expressions). The repeated muscle movements lead to dynamic wrinkles and Botox is an excellent choice for ironing out these dynamic wrinkles.
Anti-Wrinkle Injections,BOTOX® Cosmetic, are the perfect anti-ageing solution for anyone concerned about. Unwanted facial expression lines, fine lines and deep creases or for those wanting to prevent lines from occurring! This anti-ageing treatment will dramatically reduce the visible signs of ageing, in as little as just ten minutes!These injections also help patients with certain medical conditions such as excessive sweating, migraine headaches and certain muscular spasms.
Your face naturally changes over time as a result of internal and external factors. Internal factors include a decrease in natural substances – such as collagen, hyaluronic acid and elastin – that provide the skin with structure and volume. External or environmental factors include sun exposure, smoking and stress. When you think about how your face changes over time, it is easy to focus on the outward signs such as wrinkles that appear on the surface. However, the outward signs of ageing are often a result of changes in the different layers of the facial structure. This is because the ageing process causes changes from deep down at the bone level through soft tissue, muscle and up to the skin. So remember, it is important to consider what is underneath the skin as well.
Externally, the single most important contributing factor to the appearance of ageing skin is believed to be sun damage (also called photo ageing). This affects both skin texture and pigmentation. Other environmental factors, including cigarette smoke and pollution (particularly ozone), may speed up ageing by producing free radicals. In large amounts, free radicals can damage cell membranes and ultimately result in wrinkles.
There are two major types of cosmetic injectable used for anti-ageing treatments on men and women to improve the visible signs of ageing: Anti-Wrinkle Injections, or injectable muscle relaxants and cosmetic dermal fillers or injectable dermal fillers. These can be used together or in isolation in the treatment of facial wrinkles. The best treatment for you will depend on the area being treated and the severity of the wrinkle, both of which vary from individual to individual.
Injectable muscle relaxants or BOTOX® Cosmetic for Men, are used to treat dynamic wrinkles and work by relaxing the wrinkle-causing muscles that cause people to frown or squint, creating an improved appearance. Once the muscle is relaxed, you cannot contract it and continue to make the undesirable facial expression. Thus, the cosmetic injections gradually smooth wrinkles and prevent wrinkles from forming again. After a facial injection, it takes 2 to 3 days for the treatment to begin taking effect and around 7 days to see the full effect. Treatment effects for BOTOX® Cosmetic can last up to 4 months.
Anti-Wrinkle Injections BOTOX® Cosmetic use Botulinum toxin A, a prescription medicine that is injected to relax the wrinkle-causing muscles to improve the look of moderate-to-severe frown lines in both men and women 18 to 65 years of age for a short period of time (temporary). It works by blocking nerve impulses to the injected muscles. This reduces muscle activity that causes moderate to severe lines to form between the brows.Researchers say the most common reasons male patients cite for using Botox include looking better for social and romantic ends, succumbing to their wives' encouragement (or demands), and, perhaps most important, a desire to remain competitive in the workplace, especially for those in finance and business. Excessive sweating is also treated with botox and provides fast, effective relief.
BOTOX® Cosmetic, Botulinum toxin A is a natural, purified protein that relaxes the muscles that cause wrinkling and unwanted facial expressions. Botulinum toxin type A, is currently approved in approximately 80 countries has been used for many years for the treatment of a variety of different indications to help patients worldwide suffering from such serious or debilitating conditions as migraine headaches, cerebral palsy, facial spasms, and eye and bladder problems and, more recently, for excessive sweating. The injection of small amounts of onabotulinumtoxinA results in disabled muscle contraction. When muscles cannot contract or tighten, the skin flattens and ultimately appears smoother and less wrinkled.
At Results The Men's Grooming Salon, and our highly skilled doctor of comedic practitioner Dr. Sarah Freilich who specialises and is fully trained in Anti-Wrinkle Injections, provide the simple, nonsurgical procedure.
• Reduce frown and Galabella lines
• Reduce crow's feet lines
• Reduce Perioral Lines (Smoker's Lines)
• Marionette Lines
• Treat facial nerve paralysis
• Effective in relieving migraine headaches
• Effective in reducing excessive sweating
• Effective in reducing muscle spasms in the neck and eye
• Overall youthful appearance
• No downtime is needed – you're ready to get on with your day!
• Quick and affordable procedure
• Dramatically reduce the visible signs of ageing, wrinkles and fine lines
• Achieve a clean, smooth facial appearance in as little as 10 minutes
• Administered by our experienced Doctor Sarah Freilich
• Maintenance treatments required once every six to twelve months
Anti Wrinkle injections for Forehead and Frown lines (Galabella Lines)
Botox injections are a simple non-surgical procedure that smoothes the deep, persistent forehead lines that develop over time.
Anti – Wrinkle Injections for Smoker's lines (Perioral Lines)
Our collagen becomes broken down the older we get and the more we expose ourselves to free radicals such as pollution and smoking. This often causes the Perioral lines that smokers often dislike.
Botox injections are useful in smoothing out these lines.
Anti- Wrinkle Injections for Crow's feet
Crow's feet, also known as lateral canthus lines, are what are called dynamic wrinkles. This means that the wrinkles are caused by muscle contractions, specifically from squinting. Botox injections can reduce and often eliminate and prevent these lines from further developing.
Treatment options for Marionette lines
Marionette lines are commonly term used to describe changes that occur on the chin area with facial ageing. As we age there is atrophy of structures under the skin, and descent of facial cheek pads. Botox injections can help smooth these lines out.
Controlling excessive perspiration or sweating – Hyperhidrosis
The dynamics of sweating is complex. The sweat glands play an important role in the thermoregulation of the body, but are concentrated in the hands, feet and armpits. Botox Injections can help control the severity of sweating.
The Men's Grooming Salon's Doctor Sarah Freilich administers a few tiny injections of OnabotulinumtoxinA directly into the facial muscles that cause those moderate-to-severe frown lines. No anaesthesia is required for this procedure. Treatment discomfort is usually minimal and brief, usually localised to the area being injected. The treatment usually does not take longer than ten minutes to administer and there is very minimal downtime associated with the treatment. A consultation precedes the treatment, whereby your suitability for treatment and your anticipated results will be assessed.
Doctor Sarah Freilich will give you specific aftercare instructions. You will start to notice a difference within two days. No downtime is needed – you are ready to get on with your day! Side effects associated with the injection include localized pain, infection, inflammation, tenderness, swelling, redness, and/or bleeding/bruising however this is usually localised to the injected area and often doesn't last long.