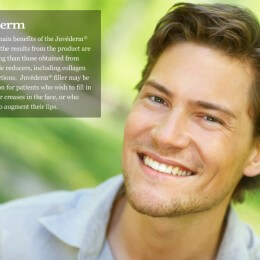 Best Cosmetic Injectables for Men in Sydney. BOTOX® and Dermal Fillers JUVÉDERM®
What are Cosmetic Injectables?
In the quest for youth—or at least a more youthful appearance men are seeking treatments to minimize laugh lines, crow's feet, and forehead furrows. A popular treatment involves injecting cosmetic wrinkle fillers into the face. Cosmetic injectable for men are simple, quick and is a safe technique.
Injectable cosmetic wrinkle fillers are soft tissue fillers approved as medical devices by the Therapeutic Goods Administration (TGA). These devices are injected into the skin to help fill in facial wrinkles, restoring a smoother appearance. Most of these wrinkle fillers are temporary because the body eventually absorbs them.
It is a prescription medicine containing purified protein (Botulinum Toxin Type A) that works by blocking the chemical signal from the nerve that causes the muscle to contract.
The result is minimized movement of specific muscles in the face and neck, preventing folding of the skin and the formation of wrinkles. Muscle relaxing injections are a simple, convenient and quick option for smoothing dynamic wrinkles that have become deeper over time, making you look younger, fresher and more relaxed without changing your individual expression and personality of your face.
Video Demonstration of Cosmetic Injectables.
You can discuss with us any areas of interest and express your concerns so that we can address them in a realistic manner. The objective of the consultation is to have a better understanding of your goals, expectations and budget so together; we can offer the most optimal treatments to meet your goals. Some of our treatments are wrinkle injections and Sydney facial sculpting.
Treatments of Cosmetic Injectables in Sydney
The typical areas treated by cosmetic injections include:
• Crow's feet at the corners of the eyes
• Frown lines between the eyebrows
• Worry lines which run horizontally across the forehead
• Deep smile lines which run from the sides of the nose to the corners of the mouth
• Smoker's lines or lipstick bleed lines which run vertically around the mouth
• Marionette lines at the corners of the mouth
• Lip enhancement
How Safe are Cosmetic Injectables?
Our in-house doctors will personally customize your treatment based on your skin's type and age, ensuring your final results look natural and youthful. Two visits are usually recommended for achieving the most natural-looking results. At The Men's Grooming Salon, our Doctors are committed to providing the highest quality and most innovative facial cosmetic procedures in the Greater Sydney area, providing you with a safe, private and pleasant environment for all your Sydney based facial cosmetic procedures.
The doctors are conservative with their product, ensuring your facial expression and animations are not hindered, communicating with their patients about their desired final appearance and monitoring their progress with the product. Doctors also works on regulating the sweet production on your face or/and underarms, keeping headaches under control, reducing pore sizes and overall is intended to enhance the way you look, without change it.
Our doctor's in depth knowledge of the functions and dynamics of men facial anatomy combined with their artistic eye and sense of moderation resulted in our clientele growing exponentially over the last 12 years. Specialising exclusively in non-surgical cosmetic rejuvenation of the face, The Men's Grooming Salon aims to build trust and rapport with our clients through our expert knowledge applied with care, integrity and use of the highest quality products.
Cosmetic Injectables Price List
Welcome to The Men's Grooming Salon Clinic in Sydney. We offer a range of non-invasive, non-surgical cosmetic treatments, performed by our specialist cosmetic physicians. Discuss the possibilities with them today.
Dermal Fillers JUVÉDERM®
• Lips –
• Smokers Lines –
• Nasolabial Folds-
• Holllow Cheeks –
• Nose Remodelling –
• Hollow Eyes –
BOTOX®
• Frown –
• Expression Lines –
• Crows Feet –
• Underarms –
Cosmetic Injectables and their Medical Applications
Although we assume that cosmetic injectables is purely for cosmetic purposes it also has a number of medical applications. It is regularly used in the treatment of hyperhydrosis (excessive sweating), the relief of migraines and certain eye disorders.
• Reduction in Headaches relaxing of the muscle reduces the tension that can trigger headaches in some sufferers. Cosmetic injectables prevent the transmission of pain signals to the brain, reducing the severity of the headache.
• Sweating Treatment Cosmetic, injectables offer a solution for many sufferers as the Clostridium botulinum derivative temporarily blocks the nerves, which stimulate sweating. Cosmetic injectables are extremely effective to regulate profuse sweating
Intradermal Injectables, Micro-Injectables, pore-sized reduction treatment.
Intradermal Injectables is not injected into the muscles of facial expression but on the fine muscles in the skin that control pore size – the erector pili. These muscles are literally within the skin, hence the name Intradermal Injectables. They are the ones that make your hair stand on ends or cause goose bumps. The effect of Cosmetic injectables injected in this manner contracts the skin's pores.
• Reduction of Open Pores and ACNE Intradermal-Injectables reduces oil production, blocks sweat production as well as reverse the inflammatory process that cause acne. The effect of Micro-Injectables is therefore also that of a matt, poreless and smooth look anytime of the day for 3-6 months. Acne outbreaks are significantly less such that there will be less PIH (brown marks) over time.
• MICRO-Injectables FACELIFT EFFECT Smaller pores result in a smaller skin surface area hence making skin more stretched out over the face. The shots along the jaw line reduce the downward drag of the platysmus muscle. A non-surgical facelift we call the "The BOTOX® Lift" is as such achieved.
What are dermal fillers? JUVÉDERM®
Dermal fillers JUVÉDERM® are another popular cosmetic injectable treatment frequently used to correct scarring, wrinkles, and other skin depressions. Dermal fillers can also enhance cheekbones, plump up the lips, or smooth the contour of an uneven nose.
Dermal fillers JUVÉDERM® are introduced to the deeper layer of the skin or lips to give a filling effect. The brand we work with is the ONLY hyaluronic acid (HA) filler TGA approved to last up to one year with one treatment. It is 100% safe, easy to apply, long lasting, and virtually painless to inject. All of these products are hypoallergenic, produce consistently excellent results, feel natural under the skin, and exert no downtime on the patient. Many of our patients experience no pain at all and minimum or no side effects. Our Doctor will discuss with you which of our dermal fillers are best suited to treat your particular problem areas.
Our aim is to help increase your self confidence, body image and answer any and all of your questions. We have a great understanding of facial aesthetics and facial ageing. With our deep knowledge and expertise in facial aesthetics, we can enhance your facial appearance with treatments like lip, temples, or cheek fillers in Sydney whilst achieving realistic and natural results.
Seeing a cosmetic facial specialist is not just about getting fillers or BOTOX® in Sydney or dermal fillers, it is about taking into consideration the whole person and addressing the anatomy of ageing in that particular individual, taking into consideration their concerns and developing a "tailor made" solution for that person.
Whether it is to simply talk about the possibilities or take the leap and book an appointment for cosmetic injections in Sydney or cosmetic skin consultation, we are with you every step of the way.
Dermal Fillers Treatments for Men
We use hyaluronic acid, a naturally occurring sugar within the body, as a filler which smooths the look of wrinkles and recovers skin's lost fullness. Hyaluronic acid has also been shown to stimulate the body's own, natural collagen production. Dermal fillers is used to enhance and define the lips, cheeks and jawline. Dermal Fillers freshen your appearance in one session and leave you instantly more youthful with no downtime and minimal discomfort. Some common areas include:
• Frown lines between the eyebrows
• Nasal labial lines
• Temples
• Crows feet lines around the eyes
• Horizontal forehead wrinkles
• Smokers lines and mouth ageing
• Lip enhancement
• Acne scarring
• Cheek dimples and creases
Voluma JUVÉDERM®, The liquid facelift
VOLUMA JUVÉDERM® is a cross-linked hyaluronic acid gel that is designed for deep tissue augmentation. As the name suggests, VOLUMA is used for volume replacement and restoration lasting from 18 to 24 months. Men's youthfulness means fullness and smooth contours achieved with VOLUMA by allowing skin to drape better over the face, sagging skin is reduced achieving what is commonly referred to as "The Liquid Facelift".
The results are immediate, homogenous and with a very masculine natural looking as it is injected deeply. At such depths, skin and muscles drape naturally over the hyaluronic acid gel. Fullness is restored without any lumpiness on the skin.
• Cheeks The male cheeks are not just about beauty but masculinity, they should be sculpted in a way that shows a sign of strength. As we age we lose facial volume which can leave us with a gaunt, drawn out look
• Chin The chin is certainly one of the stronger features of the male face along with a strong angular jawline. But unfortunately not all males are born with a strong chin and that is why at The Men's Grooming Salon assists with non-surgical treatments to create a more prominent, masculine chin
• Jaw We treat numerous men with our non-surgical jawline restoration. With the use of VOLUMA to instantly reshape and Collagen Stimulator to slowly regrow and tighten that strong masculine jawline, we can recreate or reserve the ever sexy male jawline.
What is involved in the treatment?
Cosmetic injection therapy is considered a simple walk in/walk out office procedure that takes between 30 and 60 minutes of your time. The procedure is simple, however, the results are dramatic. A consultation with our Nurse Aesthetician allows us to ascertain which areas you would like treated and the best product to use in your case. There are many products available, but essentially, the use of very fine injections is made into the areas to be rejuvenated. A local anaesthetic is sometimes used to decrease the level of discomfort, before and during the procedure. Depending on the desired effect, initially treatment is usually maintained with periodic follow-up treatments.