Face Treatments for Men need to be created for Men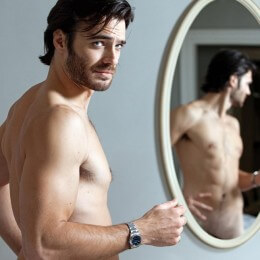 Face Treatments for Men need to be created for Men
LET'S TALK MEN'S FACIAL
The Men's Grooming Salon make sure that our facials will not hurt your male image! Don't imagine a towel on your head or a cucumbers on your eyes! Think of a serious scrub to take off dead skin that can make you look well rested and groomed. A facial massage to relax you, and the right products and machines to help you look healthier while we address any issues that you might have with your skin.
Men have more testosterone stimulated oil glands, thicker and more course skin so they're more prone to acne and black heads/clogged pores troubles. They are also typically exposed to more harsh environmental factors compared to women, not to mention the daily shave and alcohol-rich aftershaves that add stress and damage to the skin. Also, they're typically not trained to groom their faces. For men, facials are a great way to promote skin health and a younger appearance, increase circulation, and stimulate growth of new skin cells, nourish and hydrate dry/damaged skin as well as improving skin tone and texture and alleviating redness or sensitivity. Men are now enjoying the wonderful, reviving benefits that facial treatments provide. Gender aside, good skin is good skin.
There usually are simple variations inside skin qualities involving your skin of a female knowning that of a man. These distinctions require that men plus women should have split natural skin care treatment. You can't hope males to work with items created for women along with vice versa. Skin care products like lotions, oils and lotions are fashioned to target pores and skin problems certain for you to adult men or even women. One fundamental variance lies inside the sebaceous glands, also called essential oil glands. The sebaceous glands are smaller sized with a mans epidermis when compared with in the womans. Sebaceous glands will be accountable for the assimilation with dynamic ingredients within skin care products. Face treatments for men need to be different from females.
Mens skin color is likewise oilier compared to that connected with womens. The males hormone sexual energy can be responsible because of this difference. Because with testosterone, mans skin secretes higher amount associated with oil, though ladies estrogen hormone tends to make their dermis secrete fewer oil. This describes the reason adult men grow far more dermis issues for instance pimples, cystic acne as well as other imperfections in comparison with women.
There is also the variance within pores and skin thickness. Mens dermis is thicker as compared to womens. This difference is pointed out from the skins capacity for you to tolerate the suns UVA rays. Since womens pores and skin will be thinner, they are more liable to your detrimental effects connected with an excess of sun compared to help men.
Men's skin is often firmer due to higher levels of collagen, but the collagen levels decrease dramatically between the ages of 30 and 50. Once the aging process starts, the skin rapidly loses its firmness and tone, causing deep wrinkles to form and cause the aging look. Men need products and facial treatments that work to minimize the signs of aging, improve skin texture, tone and protect the skin. In addition to physical differences occur in aging, behavioral differences exist between men and women. Regular facial shaving causes a decrease in the skin's natural moisture and leads to irritation, such as burning, stinging, and redness. Ingrown hairs are also a common problem for men.
Men's Skin Care Needs are a must for healthy living and at The Men's Grooming Salon we will look after your manly need.
To learn more about us, JOIN our FACEBOOK PAGE!