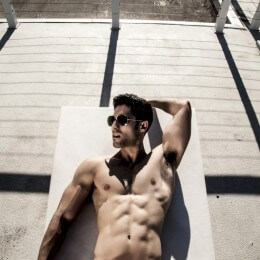 Male Waxing for the Straight Man in Sydney
If you think only modern metrosexuals, well-run gay men, or tough triathletes would choose to go totally bare down there, think again. Hairlessness men is swelling in popularity for all types of guys, from straight to ultra conservative to liberal, according to a recent New York Times article. Men are going "simple" naked, from their chest to their nether regions.
The below-the-belt treatment, which, just like the women's version, removes either some or all-pubic hair, is becoming increasingly popular all across the straight men population, and not just among competitive swimmers or underwear models. Men's bikini waxing accounts for around 70 percent of the weekly business at The Men's Grooming Salon waxing branch, a discreet salon in Woollahra, Eastern Suburbs district of Sydney with a predominantly male clientele founded over ten years by our cosmetologist and male grooming expert.
In fact, we are proud to say that we are Sydney's premier specialists in men's hair removal. We are a very select exclusive men's grooming salon that is honoured by its male customers as the "Best Sydney Salon for Male Waxing" since opening. Men can feel comfortable knowing that our experience and expertise are well established in Sydney City. A very discreet men's clinic with no shop-front perfect for those men in need to keep a low profile from paparazzis.
It used to be that only gay men availed themselves of body waxing services. As times change, more and more straight men come to the men's grooming salon, over 70 % of our clientele, situated at the eastern suburbs of Sydney. Men in search of a variety of full body waxing services, facial rejuvenating treatments and a broad selection of body and massage treatments customised for men, will find their needs solved at our men's clinic.
Our full body waxing services for men run the scope from leg waxing, back waxing, and chest waxing, to arm waxing, bikini waxing, Brazilian waxing and more. The Men's Grooming Salon offers safe and hygienic waxing; our soothing Australian natural waxing formulas are of highest qualities making the waxing procedure easier, faster and comfortable. The MGS waxing treatment is designed for men.
Some men think there's an added perk of getting a Brazilian: an enlarging effect for the main attraction. "It accentuates it, because there's nothing to obscure the, you know, implement down there," said by many clients, at the MGS, in Sydney, which charges $85 for a so-called Boyzilian, Brazilian or colloquially known as "crack, sack and balls wax". Where a professional male aesthetician first apply the wax and strips to the desired area(s), then remove the wax, and then, if you choose, our technician will apply an after-wax antibacterial lotion.
Another reason for the recent rise of manscaping? "More men are becoming open to getting waxed because our girlfriends and wives are encouraging us to clean up," says client at MGS. "Usually men come back after the first time because waxing makes you feel more confident by eliminating a 5 o'clock shadow on your back or groin area, and helps relieve ingrown hairs caused by shaving. Plus, it saves time since they don't have to shave daily, and eventually hair starts to grow back thinner so they don't need to come in as often.
Clients said: "without getting too graphic, I will note that the parts that I thought would hurt the most to be waxed did not. In fact, the most unpleasant experience occurred while getting the leg area waxed and the lower abdomen". This is due to low body fat in that region that could have been particularly sensitive. Also, the coarseness of the hair makes a big difference. Meanwhile, more, personal zones were relatively painless.
So get with the times. There is no reason to feel uncomfortable or embarrassed. In this day and age, whether you're straight, gay, or an athlete, it's perfectly acceptable to get waxed on any part of your body.